The Therapy Place is Ready to Help
At The Therapy Place in Kalamazoo, MI, we care about your child's physical and mental health and are specialists in assisting with behavior modification for children with autism spectrum disorders. It's our mission to allow patients, throughout Southwest Michigan, to live life to the fullest by helping them better adapt to illness, injury, or disability.
What is ADD and ADHD?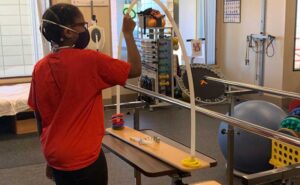 Attention-Deficit/Hyperactivity Disorder (ADHD) and Attention Deficit Disorder (ADD) are two of the most common neuro-developmental disorders of childhood recognized as being part of the autism spectrum disorder.
About 10% of all school-aged children have been diagnosed with ADHD according to The Centers for Disease Control and Prevention. ADD is a type of ADHD that doesn't involve constant movement and fidgeting (hyperactivity). Children with ADD are generally not disruptive in school or social settings.
In general, not all children with ADD or ADHD are alike. Children with behaviors on the autism spectrum frequently are first diagnosed in early childhood, but disruptive behaviors often last into adulthood.
Children and adults with ADHD/ADD may have trouble:
Paying attention.
Controlling impulsive behaviors.
Controlling activity level.
Children and adults with ADHD/ADD might:
Daydream a lot.
Forget or lose things a lot.
Squirm or fidget.
Talk too much.
Make careless mistakes or take unnecessary risks.
Have a hard time resisting temptation.
Have trouble taking turns.
Have difficulty getting along with others.
While it's normal for children to have trouble focusing or behaving from time to time, children with ADHD do not outgrow these behaviors. The symptoms may continue, may increase in severity, or may cause difficulty at school, at home, or with friends.
How Occupational Therapy Can Help
The occupational therapists at The Therapy Place work with patients with ADHD/ADD and their families to develop interventions that can improve activities of daily living at home and the community.
Before creating an intervention plan, occupational therapists evaluate each child using:
Direct observation
Input from parents, guardians, and teachers.
These interventions play a vital role in identifying and treating autism spectrum disorders and improving a patient's ability to fully participate in life roles, routines, and daily activities.
With occupational therapy, children can learn to function more competently in these roles and to cope with and modify these behaviors throughout their lives.