About Us
The Therapy Place is a privately owned family business owned by longtime Kalamazoo residents, Bruce and Diane Vincent. The business was started in 2005 and is located in Kalamazoo, Michigan providing Occupational Therapy services throughout the Greater Kalamazoo and Southwest Michigan areas.
What We Do
Occupational therapists at The Therapy Place help with barriers that affect a person's emotional, social, and physical needs. To do this, occupational therapists will use everyday activities, exercises, and other therapies.
The Therapy Place is committed to providing needed health-related therapeutic services to the greater Kalamazoo area.
We value all our patients and pledge to treat each one with dignity and respect.
Contact us for a free therapy screen, regardless of diagnosis and insurance coverage, to determine if occupational therapy services can address your needs.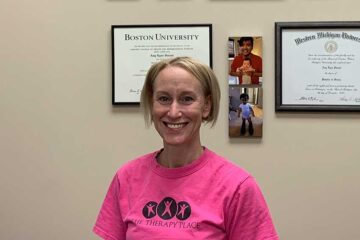 Amy holds a Bachelor's of Occupational Therapy from Western Michigan University and a Master's of Occupational Therapy from Boston University. She specializes in pain management...
Meet Amy
Monica Phillips Monica Phillips, OT, graduated from Western Michigan University with a Bachelor of Science degree in Interdisciplinary Health, with a focus on Occupational Therapy....
Meet Monica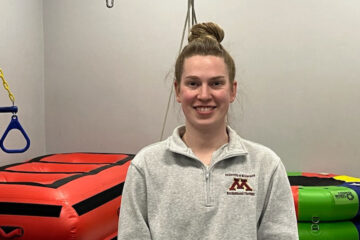 Sarah Visser graduated from Michigan State University with a Bachelor of Science in Kinesiology with a cognate in Cognitive Science. She received her Doctor of Occupational Therapy...
Meet Julia
Client Testimonials
I started OT with The Therapy Place in late May. I was impressed with their COVID procedures, but more impressed that the treatments they provided gave me relief from chronic pain which I had suffered for more than 2 years. I am grateful for the service and the people.
Aaron S.
I came to The Therapy Place as a matter of need versus choice. I was grateful to meet such warm and caring people, and was able to (I'm sure) more quickly recover from my stroke and have returned to almost complete activity.
Crysta G.
I suffer from continual joint and back pain and without The Therapy Place, I would be forced to use other pain-relief measures like addictive opioids. With my OT treatment, I can manage my pain to a great extent. Thank you everyone!
Shari M.
I feel really comfortable being treated at The Therapy Place. They are non-judgemental and help me with some back and shoulder pain.
Eli P.