The Therapy Place is Ready to Help
At The Therapy Place in Kalamazoo, MI, we care about your child's neurological conditions. We are specialists at assessing pediatric neurological disorders, and it's our mission to help patients in Southwest Michigan live life to the fullest.
What are Neurological Disorders?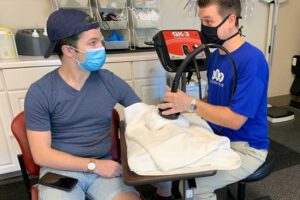 Neurological disorders are diseases of the central and peripheral nervous system and may include:
The brain.
The spinal cord.
Nerves and muscles.
These issues can cause problems including muscle weakness, gait, balance, and coordination.
Common neurological diagnoses in children include:
Epilepsy.
Cerebral palsy.
Muscular dystrophy.
Migraine.
Seizures.
ADHD/ADD.
Concussion.
Spinal cord injuries.
How Occupational Therapy Can Help
Occupational therapists play a vital role in identifying and treating pediatric neurological disorders and improving a child's ability to fully participate in life; its roles, routines, and daily activities.
With occupational therapy, children can learn to function more competently in these roles. To do this, occupational therapists evaluate the child then develop an intervention plan.
Before creating an intervention plan, occupational therapists evaluate each child using:
Direct observation.
Input from parents, guardians, and teachers.
Therapists then work with the child's caregivers to address the most immediate and important issues.
Once an evaluation is completed, therapists and parents work together to create an intervention plan. That plan provides guidance on how the parent and child can learn to adapt to the child's issues. These modifications can help your child live life to the fullest.
Ultimately, the goal of intervention is to promote a healthy childhood and set the child up for success throughout his or her life.