The Therapy Place is Ready to Help
At The Therapy Place in Kalamazoo, MI, we care about your child's physical and mental health, and we treat patients of all ages who experience autism spectrum disorders. It's our mission to help patients in Southwest Michigan live life to the fullest by helping them better adapting to disorders, injuries, or disabilities.
What are Autism Spectrum Disorders?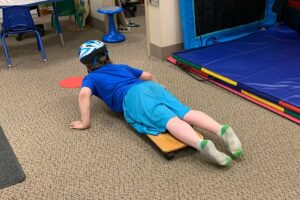 Autism spectrum disorders are a range of neuro-biological disorders that often are identified in childhood.
The spectrum may include disorders such as:
Autism.
Asperger syndrome.
Rett syndrome.
Pervasive development disorder.
Childhood disintegrative disorder.
Often, children diagnosed with autism spectrum disorders have behavioral and social development problems at home, at school, or in the community.
How Occupational Therapy Can Help
Families with a child on the autism spectrum often feel their lives revolve around that child. They also worry whether they do enough for their child. Occupational therapy services can help parents and other caregivers to be more effective in helping the child develop the skills needed for a successful transition to adulthood.
The occupational therapist plays a key role in identifying and treating autism spectrum disorders. These treatments work toward improving a patient's ability to fully participate in life roles, routines, and in the activities of daily living. With occupational therapy, children can learn to function more competently in these roles.
Before creating an intervention plan, occupational therapists evaluate each child using:
Direct observation.
Input from parents, guardians, and teachers.
Our therapists then work with the child's caregivers to address the most important issues and move ahead from there.